Camp Christoper Reflections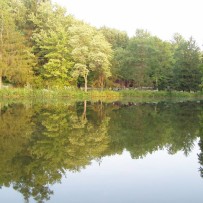 REFLECTIONS
Capturing something as elusive as the Christopher Spirit in print is a formidable task. But those of us touched by that spirit continue to try, in the hope that some glimmer of that grace can shine through. Enjoy these thoughts shared by some of Camp's sweet survivors, then leave a reflection of your own!
I know we have a tendency to glorify the past, but I look back and I know that that was one of the happiest times in my life. Those camp days. I was 21 when I started and about 27 when I stopped working there. Those were great years, working with people you respect, cooperating to get the job done, you're outside and close to nature. It was fun and it was a life-developing experience.
I think we were in a time of great transitions in the world and in the Church. We were at the end of an era in the way people used to live and think and behave and worship. I think the faith started in your home and then was nourished in the settings we have described. There was no question about your beliefs, your morals. Everybody trusted everybody. It was a wonderful age in which to grow into a priest.
– Fr. Jim Becherer
On Staff in the late 1940s
The songs from those sing-a-longs are still part of my life. When I'm in a classroom, I still find myself singing some of those songs with the kids. If anyone were to ask me: 'Where was your Camelot?' I would tell them it was Camp Christopher.
– Sister Joan Franklin,OP
On Staff in the 1950s
I've always believed that Camp wrecked you for any other type of job. I can't think of another work setting where you could form the kinds of relationships with the quality of people that you had working out there. Though I may not remember a lot of particular incidents from those days, I still can recall that feeling of how you hated the seasons to end, how you hated your stay at Camp to end because you knew that you'd never have these same kinds of relationships again. We all knew when it was time to move on and we wanted to grow older, but we didn't want to leave that situation behind. It was almost idyllic; you just don't run in to a collection of such quality people any place else. You can't put a value on that.
– Jim Doles
On staff in the 1950s- 1960s
I've been thinking about the amazing impact Camp has had and continues to have on my life. One of the most powerful moments for me was Girls' Season– not sure what year, but there's a good chance it was 1970. The entire camp encircled the flag pole with arms around each other singing and swaying to Give Peace a Chance. The memory and its power give me goose bumps 40 years later!
– Jeanne McGuire
Camper in the 1960s, on staff in the 1970s, Family Camper, September Song Camper
Camp will always have a special place in our hearts. It has been important in more ways than we can say. It is a place of peace, joy, fun, friends and hope. Our family has spent many days at Camp hiking, climbing, swimming, canoeing and just being. God's presence there is so evident and yet so gentle. It's tangible. Thanks for the memories.
– Linda Marcin
Friend of Camp Christopher & Wife of Former Counselor Phil
We arrive for a week of camp
with new shoes shiny and bright
after a heartfelt opening campfire
stepped in a horse plop the first night
a vigorous game of capture the flag
played on a hot and muggy evening
socks socked through with humid sweat
the warm shoes practically steaming
wet shoes wet shoes wet shoes
stinky sneakers
hiking is a required daily activity
often stepping in a blackish muck
the foot sinking to ankle deep
funny sucking sound getting unstuck
the summer rains they do come
forming puddles on every path
one must attempt an epic splash
giving your mate a muddy bath
wet shoes wet shoes wet shoes
stinky sneakers
running the bases in a baseball game

foot odor becomes athletic smell
clay dust does little to mask
the reek that is beginning to gel
the cabin gets misty by mid week
something is growing around the camp
not only the shoes but the bathing suits
towels …heck everything is damp
wet shoes wet shoes wet shoes
stinky sneakers
near the end of the camping experience
shoes must be left on the porch
sleep comes deep and easy
even a bear wont dare approach
too fast but the great week is over
wish my shoes and I could stay

I will carry the memories always
but I am throwing the shoes away
wet shoes wet shoes wet shoes
stinky sneakers
Shawn O'Neill
Camper of the 60s, Counselor of the 70s
It was one of the best feelings returning every summer, seeing how people remembered you and how they made you feel like a friend for life. This makes you feel very special. Now, as a counselor in the program, I really like how my fellow Spaniards come to the camp for the first time feeling the same way as I did. Initially they are always complaining about bugs, about not having a decent mirror, how surprised they are to see the showers, and how they declare that they will never swim in that lake. But the thing I like most is that by the end of the week, they have completely changed their minds. They realize that they have become indifferent to bugs, that they don't need a mirror in order to survive, that nobody can coax them out of the lake, and that they long to stay there for the whole summer.
— Luisa Castillo Frasquet, Spanish camper and counselor these past 5 years