WAYS & MEANS COMMITTEE
The Ways and Means Committee shall be composed of three or more Board members. The Ways and Means Committee shall be responsible for the Friends of Camp Christopher's fundraising activities and shall coordinate its fundraising goals with the Finance Committee. (Bylaws, Article 5, Section 2.2)
Ah, a myriad of ways and means exist to raise money for a 501(c)3 organization like ours, and it is up to Ways and Means Chair, Chaz Gessner, to propose and initiate the most realistic and effective. His committee has introduced a number of fundraising projects already, and there are some promising proposals for new events on the
horizon. Chaz has shown a great instinct in looking for venues that not only bring in needed dollars to our treasury, but bring our scattered membership closer together in the Christopher Spirit.
FRIENDS OF CAMP CHRISTOPHER TEE SHIRTS – In 2014 Chaz, working with his favorite project collaborator Dawn Heisler, created the familiar Friends logo inspired by the statue of Mary on Lake Marian's far shore. As the organization began reproducing the image on letterheads and business cards, Chaz emblazoned it on cotton tee shirts. Our first run has all but sold out, but Chaz & Dawn are hard at work preparing a second run that includes new designs.
THE ANNUAL DINNER/REVERSE RAFFLE – In September of 2014, Friends of Camp Christopher reinstated a tried and true fundraiser that Camp Christopher had used for many years. It was a social evening of fun and food with a reverse raffle at the center of the evening's activities. Now in its fourth year, this fundraiser has become an annual part of Ways & Means planning.
THE ADOPT A BRICK PROGRAM — Throughout 2016, and up until September of 2017, we raised money to fund what proved to be the biggest FoCC "brick and mortar" project for Camp to date – the renovation of the flagpole area. We funded this project by selling $75 and $100 paving stones which were inscribed in tribute to members of our Camp family, past and present, and suggest, with song lyrics, quotations, and other familiar references, the many aspects of the Christopher experience.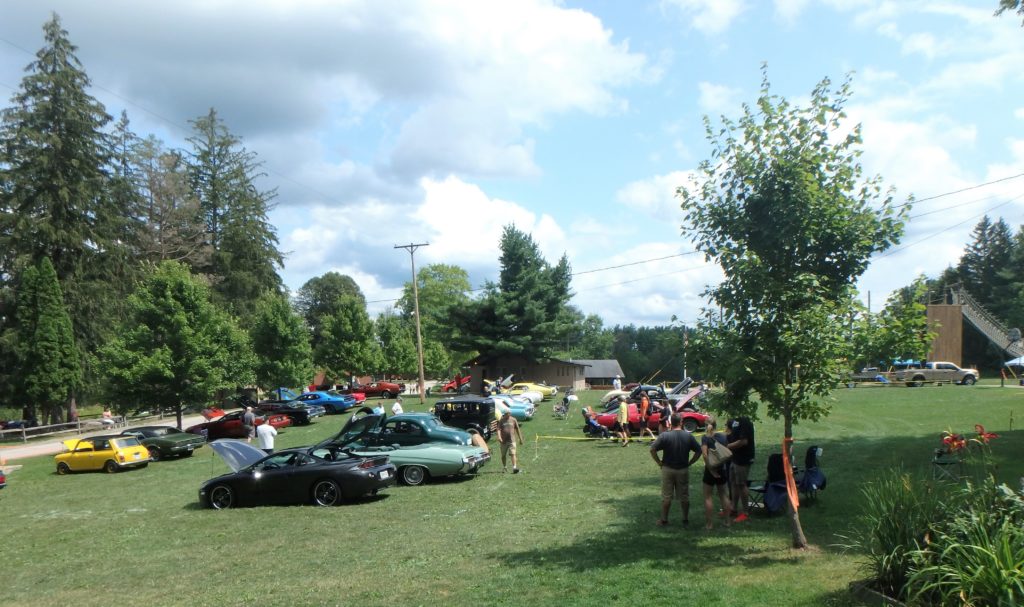 The FRIENDS OF CAMP CHRISTOPHER CAR SHOW EXTRAVAGANZA has notched two successful presentations in August of 2016 and 2017. The event is held at Camp and, with the Car Show as the centerpiece, it has become an afternoon of fun (hikes and Camp activities, raffles and giveaways, fun food, etc.) for the whole family. It's also a chance for our neighbors in Bath, Ohio, to visit Christopher, perhaps for the very first time.