THE CAMP STORE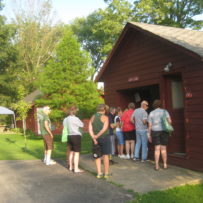 So, it looks as though the days of shopping at the old PX are gone, but we're here to tell you the Camp Store is alive and well in cyberspace! Catholic Charities of Summit County has partnered with former counselor and perennial Family Camper, Linda Butch Kolopajlo, to offer Camp Christopher merchandise via a new website presenting THE CAMP CHRISTOPHER PX .

Many of us in the Camp community have been aware of Linda's JimmyKareKrafts project these last several years. Her son, Jimmy, struggles daily with the challenges of Duchenne Muscular Dystrophy, a genetic disorder that weakens the muscular and skeletal components of the body. JimmyKareKrafts helps the Kolopajlos raise money for the specialized adaptive equipment and accommodations this brave 13 year-old needs as part of his daily life. Linda's crafts wizardry makes a purchase from her business not only a donation to a worthy cause, but rewards the buyer with unique Camp treasures.

Check out her expanded website which now embraces the

Camp Store

as a place to find great Camp related clothing and collectibles! Camp Christopher receives 15% of your purchases!