September Song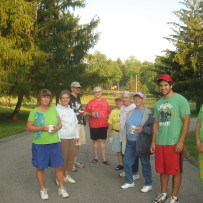 THINK YOU'RE TOO OLD TO BE A CHRISTOPHER CAMPER?
CONSIDER SEPTEMBER SONG
One of Camp Christopher's more modest programs is September Song, a week of resident camping for those of us in the "September" of our lives (ages 50 and older). This worthwhile adventure, now more than two decades old, became a part of the Christopher annual schedule in 1994 at the closing of Camp Isaac Jogues where the program had flourished for many years.
Novelist Thomas Wolfe proclaimed "You Can't Go Home Again." Sadly, he had never experienced September Song where, indeed, sweet survivors of seasons past can gather to celebrate the setting which nurtured their Wonder Bread years. We invite you to consider these six days of social and recreational activities sure to prove good for the soul. With a leisurely schedule, fun activities (optional if you just want to relax at the beach), daily Mass, delicious meals, special entertainment and field trips, it's a great setting in which to renew your Christopher ties.
In 2018, September Song will take place Sunday, August 19 – Friday morning, August 24th. Yes, September Song has to be held in August; by September all the staff have returned to school or work! Link on to Camp Christopher's "Adults -September Song" link below for registration information. We'd love to have you join us!
Friends of Camp Christopher is so convinced of the merits of this fine program that it has set aside some dollars as campership assistance for seniors who might need help to meet the $300 fee. Inquire about our FoCC financial assistance at friendsofcampchristopher@gmail.com

no later than July 1st.