HISTORY COMMITTEE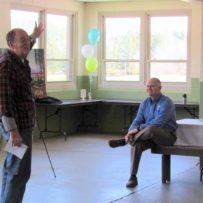 The History Committee shall be composed of two or more Board members. This committee will serve as a resource of Camp history for assisting in various projects, promotions, publications, social networking, etc. on behalf of Camp Christopher and the Friends of Camp Christopher. (Article 5, Section 2.5)
The formation of the History Committee as a standing committee within Friends of Camp Christopher seemed a no-brainer for two reasons. First, the rich legacy of Camp Christopher deserves to be celebrated and remembered in story and image. Second, our shared memories of this place we love are a tie that has bound friendships lasting decades. An alumni group dedicated to the home of "Camping At Its Finest" could use these sentiments as a firm foundation in its networking and growth.
And it probably didn't hurt that among the founding members was one homegrown historian in Tim Lilley. Having already written two Camp related love sonnets (Summer of '70 & This Camp's a Crackerjack) with his wife (and former co-counselor) Patti Longville, Tim had just started a Facebook page – I Wanna Linger – to share his growing collection of Camp photos with the world. When the infant organization was being set up in the latter half of 2012, the FoCC decided that it should have an historian as part of its board.
The History Committee works hand in hand with the Membership Committee to follow the section of our mission statement that charges us to maintain a network of Christopher alumni to enhance participation in Camp's rich heritage. Once Membership Chair Michelle Dolensky had our Friends of Camp Christopher Facebook page up and running, Tim eagerly became a co-administrator of the page. And now, with the guidance and patronage of FoCC member Mike Taylor, Tim has become webmaster for our FoCC web page. With these footprints in the social media arena, the History Committee hopes to keep our extended camp family connected.
If you have any photos you'd like Tim, "The Scan Man" Lilley to digitally preserve, send your treasures to 540 Stanton Ave., Akron, OH, 44301-1554. Tim will treat your precious images with the Smithsonian respect they deserve, and return them to you in a timely fashion along with a digital file of the pics.