CAMP CHRIS IN PRINT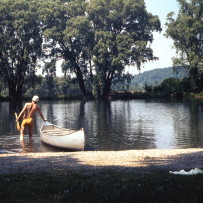 How many times had we said aloud about our camp experiences: "I could write a book!" Well, Camp Christopher veterans Tim Lilley and Patti Longville did just that a few years back. Through his desktop business, Big Trail Publishing, Tim researched and interviewed and tied together the many threads of our common Christopher experiences while Patti proofread and made suggestions to make the tales campfire-memorable. Their efforts bore fruit in two Camp related publications in 2009 and 2011.

SUMMER OF '70:
COMING OF AGE AT CYO CAMP CHRISTOPHER
A Tribute to 'Camping at Its Finest'
Edited by Tim Lilley & Patti Longville
For 90+ years, Camp Christopher has provided memorable experiences to campers and counselors that have far outlasted its summer programs.
Summer of '70: Coming of Age at CYO Camp Christopher

blends the recollections of so many of the sweet survivors whose paths intersected in 1970. In word and with many great photographs, the book highlights a "typical" Camp season, suggesting to readers of all ages what the elusive Christopher Spirit meant to the young people who kept coming back summer after summer.
If you've got that Christopher Spirit down in your knees, up in your head and deep in your heart, this is a book you will cherish.
Read the Prologue to

Summer of '70

penned by Kitt Kurtz: PROLOGUE
REVIEWS:
Thanks for getting me to give up a whole night's sleep as I sat up from 10pm till 4:30 am reading about Camp Christopher. "There Are Places I Remember All My Life…" I was truly happy there. Things seemed so promising then. . . "but some have changed. Some forever not for better." What a great place to apply the theories we were learning to real life situations. . . "Some have gone and some remain." Falling out of touch with people seems par for the course nowadays. Whatever the beauty of the setting at Camp, the people who were around me then made all the difference. I have to admit you produced a fantastic snapshot of an enshrined moment. Well done. – JB McNulty
I just finished the book cover to cover and enjoyed every word. Thank you for taking on this huge project. This is certainly a treasure. I was able to read the book through the eyes of a twelve-year-old, remembering so many of the mentioned people and events. Then I was able to apply the Christopher lore to a few years later and remember it all from the perspective of a staff member. And finally 30 plus years later I have the distinct privilege of seeing the book through the antics of my 3 children who were all on staff recently. The Christopher Spirit sure has stood the test of time. Thank you again for sharing this with your Christopher comrades both young and old. – Mary K. Thompson
THIS CAMP'S A CRACKERJACK:

Camp Christopher's First 50 Summers – 1924-1973
Our book is a love sonnet to an incredible program which survived the Great Depression and the shortages of the War Years to ride the postwar booms in both the economy and the Catholic population of the Cleveland Diocese only to face a new set of challenges at the dawn of the 1970s. The story is told in more than 250 pages printed on glossy stock and containing more than 260 black and white and color photos. The project shares the input of more than 100 Sweet Survivors, an eclectic group of generous and gifted individuals who have one thing in common – their love of Camp Christopher.
Read the Foreword to

This Camp's A Crackerjack

penned by Jeanne McGuire:

FOREWORD
REVIEWS:
I've just finished Tim and Patti's book on Camp Christopher. God love the Dominicans and their wonderful archives. I was totally riveted to the entire tome, and am honored to have contributed to that incredible legacy. Thanks for everything you've given to this wonderful, sacred, and holy past!
Be gentle, – SAM MURPHY
Hi Tim and Patti – I know I've had your Camp Christopher book for a few months now, but I've just now had begun to read it (I've been very busy with young grandchildren) – and I know you must have received raves galore…it's a handsome tome, information so interestingly conveyed, great pictures (both the selections and the quality), but best of all, it does capture the spirit of "our" camp as I perceived it and remember it. The quality of the manuscript is superb. What a tribute to Ray, and, boy, does he deserve it. Thank you both for your thoughtfulness in creating so fine a work…and continued success in any further endeavors. Take care, – EDNA DIERKER
There are limited copies of both books still available at Big Trail Publishing. Read and download our order form: BOOKS ORDER FORM
Tim and Patti continue to research and gather material for their next book project – a history of Camp Christopher's second 50 years – 1974-2023. Look for publication in Camp's centennial year (2024), Lord willing and Black Willow don't rise!
You can share your own camp memories in the comments section below: