Adopt a Brick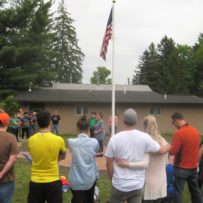 FRIENDS OF CAMP CHRISTOPHER SALUTED OLD GLORY IN STYLE SATURDAY, MAY 20th.
The erection of the High Ropes Challenge Course standing atop Christopher's hill bears witness to the changing face of Camp. The impressive panorama fills a site that had been dominated by the flagpole area since the first season in Bath, Ohio in 1954. It has been the intention of Friends of Camp Christopher (FoCC), partnering with Catholic Charities and Camp's administration, that the venerable place for decades of flag raising and flag lowering receive a makeover fitting of its part in Camp's legacy.
In recent years the flagpole area had become rather tattered and unkempt, but other Camp needs kept a major renovation at arm's length. At its July, 2015, membership meeting, FoCC voted to sponsor an Adopt A Brick program that would encourage individuals, family groups and businesses to purchase personalized engraved bricks to be laid at Camp's flagpole area to serve as a new and lasting tribute to all those touched by the natural beauty and the wonderful programs which are part of the beloved home of Camping at its Finest.
The last major renovation of the flagpole area had been in 1999, in harmony with Camp's 75th anniversary celebration. The Longville family wanted to do something in tribute to former counselor Tom "Swampy" Longville who had passed away the year before. Camp Christopher suggested donating to enhance the flagpole site. The family enthusiastically agreed, recalling fondly that Tom would often be called to shinny up the old flagpole when the rope became snagged. The Tom Longville Memorial Fund made possible the erection of three poles which would display Old Glory along with Ohio's state flag and the Papal flag. On May 23rd, Bishop Edward Pevec formally blessed the area and its memorial plaque: "IN MEMORY OF ALL WHO HAVE PASSED THROUGH THE CAMP GATE AND SHARED THE CHRISTOPHER SPIRIT."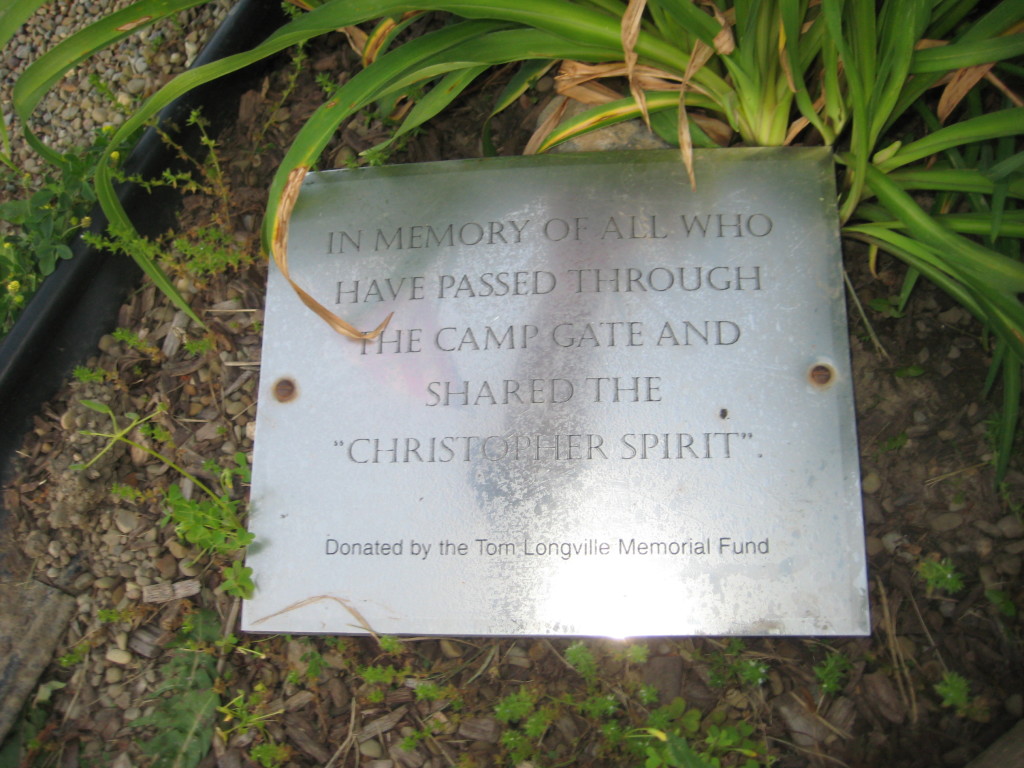 A wide array of organizations, from Hoban High School to the Cleveland Indians, have sponsored fundraising projects centered around memorial bricks to highlight their grounds. FoCC was confident that such an undertaking for Camp's flagpole area would be met with enthusiasm by Christopher alumni and would further enhance the inclusive words dedicated in '99.
The laser-engraved bricks (which come with a lifetime warranty) came in two sizes: 4"x8" which sold for $75, and 8"x8" which sold for $100. The program, which came to a formal end on February 28, 2017, sold 188 bricks to members of our extended Camp family. The bricks were engraved in March and were laid (with Mother Nature's cooperation) in May just in time to welcome campers for the 2017 summer season. A formal dedication and blessing of the site took place on Saturday, May 20th. More than 150 "Friends" gathered at the site to witness Fr. Frank Basa bless the new landmark. Appropriately, the Tom Longville Memorial Fund continued its partnership by donating the actual flagpole and the granite paver that carries that enduring message of welcome. In true Camp fashion, a few appropriate songs were sung before the group headed to the Dining Hall for dogs, burgers and great conversation. It was a fitting way to celebrate the 5th anniversary of Friends of Camp Christopher.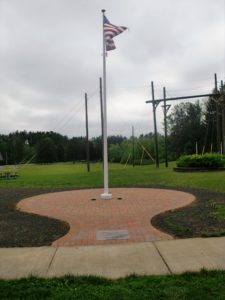 A second phase of the Adopt A Brick drive offered "latecomers" a chance to participate. From May until our 2nd deadline of August 31st, we sold an additional 30 pavers. Our contractor, Brandon Davis, had offered to return in the Fall to lay these additional engraved pavers to the area. On November 3, 2017, Brandon hauled the bricks out to Camp and the final pieces of our flagpole tapestry were placed. We thank all who supported and encouraged us in this project which took the better part of 2 years.